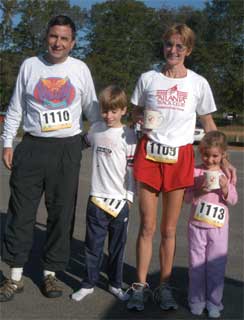 Charlie, Michael (age 8), Patti and Megan (age 4) at the Canton ATC 5k Cross-Country Race on October 23rd, 2005 at Boling Park. It was
Megan's first 5K. She finished with a first in her age group! --->
Pat and Charlie met through running and were engaged at the finish line of the London Marathon, which they both had just completed.
Pat's best running occurred at the master's level (over 40). Instead of just trying to maintain, she had actually gotten faster in the last few years.
Although in the last few years Pat would regularly win races outright, or at least win masters, she was modest and unassuming about her performances. Those who knew her and ran against her knew she was a fierce competitor- but only up to the finish line. She didn't like losing, but even if she did, she was gracious and complimentary. She would much rather ask others about how their races had gone than to talk about hers.
To those who didn't know Pat well, she could seem a little shy and reserved, but for the many of us who were lucky to get to know her well, she was warm and friendly, and had a great wry sense of humor. I will always have a vivid recollection of her expressions and the way she would give you this wonderful half-smile if you were saying something funny. If you got to know her you couldn't help but like her.